Mommy Makeover in Vancouver, BC
Dr. Eric Pugash is a well-known Vancouver plastic surgeon dedicated to helping his patients enhance their body contours through sophisticated cosmetic surgery procedures. In addition to traditional body contouring procedures such as liposuction and tummy tuck, Dr. Pugash also offers advanced combination treatments such as mommy makeover. This combined procedure consists of treatment for the breasts and abdomen. The goal of mommy makeover is to reduce the unwelcome effects of childbearing and restore a woman's body to its pre-pregnancy shape. To find out whether this procedure is for you, explore the mommy makeover before-and-after photos and information below. We also invite you to schedule a personalized, private consultation with Dr. Pugash.
Mommy Makeover: Am I a Candidate?
You may be a Vancouver mommy makeover candidate if you have completed your family and would like to restore your pre-pregnancy body contours. While some women regain their pre-childbearing form with ease, many women are not so fortunate. Pregnancy often causes permanent, unwelcome body changes including stretch marks, excess skin on the stomach and droopy, deflated breasts. Surgery may be necessary to correct these aesthetic changes.
Because every woman's body is affected differently by pregnancy, Dr. Eric Pugash develops a unique treatment plan for every mommy makeover patient. Procedures he often recommends include tummy tuck and liposuction for the midriff, and breast augmentation and breast lift for the bustline. Other procedures that may be performed for the mommy makeover include eyelid surgery and brow lift to reduce the facial signs of sleepless nights. Dr. Pugash will help you determine which combination of procedures is best for you.
Preparing For Your Mommy Makeover
Women who wish to undergo mommy makeover should be healthy, and should have lost most of their baby weight. While tummy tuck treatment can reduce the amount of excess fat on the stomach and lower body, the goal of this procedure is not to achieve major weight loss. It is important that prospective mommy makeover Vancouver candidates have realistic expectations. To help women understand how they might look after their mommy makeover procedures, Dr. Eric Pugash encourages them to view before-and-after photos of other women who have undergone similar treatments.
After Your Mommy Makeover in Vancouver
Mommy makeover is a comprehensive operation. Depending on the number and type of procedures that are performed during your mommy makeover, surgery time may range from 3-6 hours. The operation is performed under general anesthesia. You should try to arrange for someone to care for your children for several days after your surgery. During this time you will be swollen and bruised, and you will experience discomfort which can be managed with the medications Dr. Pugash will prescribe.
The initial recovery takes about 3-4 weeks, by which time patients are doing most activities of daily living. Patients can begin to exercise at 6 to 8 weeks once the abdominal muscle repair has healed. The vast majority of Dr. Pugash's Vancouver mommy makeover patients are highly satisfied with their results, and are delighted to show their new figures in form-fitting dresses and bathing suits.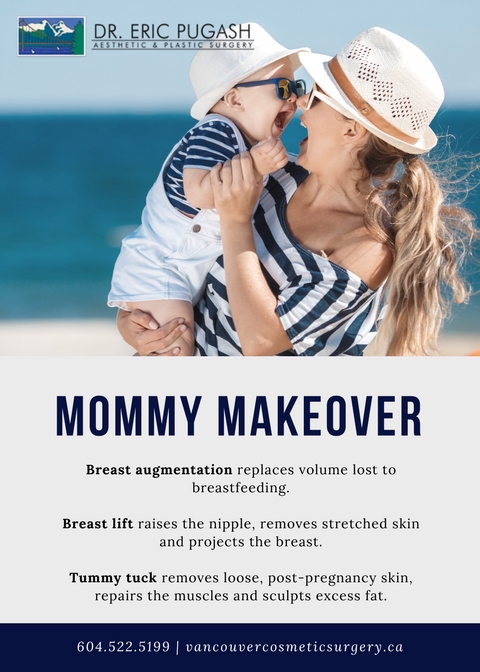 Dr. Pugash receives many questions about mommy makeover. The most common include the following:
The length of your recovery depends on the procedures you've had performed and how your body heals. Most of Dr. Pugash's mommy makeover patients return to work about three to four weeks after surgery. However, it's important to listen to your body and not push yourself to return to work and your normal routine any sooner than you truly feel ready.
As long as you maintain your weight with regular exercise and a healthy diet, you will enjoy your results for many years to come. If you become pregnant or your weight fluctuates, your results could be compromised.
The cost of mommy makeover depends on the combination of procedures that Dr. Pugash performs. For example, a mommy makeover that includes tummy tuck and breast augmentation will differ in price from a mommy makeover that includes tummy tuck, augmentation and breast lift. For more specific information about mommy makeover pricing, please contact our office at (604) 522-5199.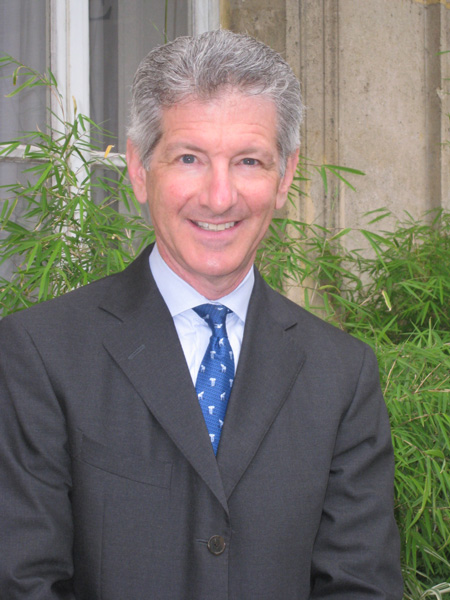 Ready to turn back the hands of time, enhance body contours or conceal aesthetic imperfections. Schedule a consultation with Dr. Eric Pugash today to learn more about how Dr. Pugash can help you achieve your aesthetic goals.
Dr. Pugash has built a busy cosmetic surgery practice that thrives on the referrals of satisfied patients. He and his staff take pride in their friendly office atmosphere, thorough patient education, and meticulous care both before and after surgery.